Category Archives:
Home Inspection
Water Bacteria Testing
What is Water Bacteria Testing?
Tests for water bacteria assess a home's water supply for contaminants and pollutants, such as chlorine, lead and coliform bacteria. Testing can also reveal an imbalance of the pH level and other factors to ensure that a home's water is drinkable and safe for everyday use.
often require water quality testing for properties with private wells and most will accept a home inspector as an independent tester. General results are usually available within 48 hours, although tests for certain minerals and other contaminants may require lab analysis and take longer.
Impurities are present in any water source and public and private water supplies may be affected by:
Elevated levels of nitrates, including fertilizers that leach into groundwater
Heavy metal contamination, including lead
Dangerous levels of bacteria
Mineral contaminants, such as iron and arsenic
Fluoride levels
Home inspectors can provide water bacteria testing services during standard home inspections with little additional time and without the need for heavy or complex equipment. Subsequent lab testing ensures comprehensive and accurate results.
Identifying the Problem
Odors, flavors, colors or stains on clothes or fixtures all can be warning signs of possible water issues. See the EPA website for a list of conditions that necessitate a water quality test.

Water Quality Testing
provide water testing services distinctively geared in helping homeowners assess the quality of their drinking water. If the water comes from a private well, our water testing will aid you in deciding the quality of your drinking water.
provide water testing services that tackle the concerns of property owners. Regardless if your water is well water or city water, we have water testing that will tell you the quality of your drinking water. For useful resources about water contamination, we have homeowner product information telling you what to expect when you decide to test your water.
FHA water testing requirements = bacteria, nitrate, nitrate, lead (please check with your lender to verify which tests are being required for the loan)
USDA water testing requirements= bacteria and nitrite or nitrate or total nitrates (please check with your lender to verify which tests are being required for the loan)
VA loan water testing requirements= bacteria (please check with your lender to verify which tests are being required for the loan)
Water Quality Testing Kits
In many applications, continuous or periodic monitoring of water quality parameters is an important part of water management. Here are some applications where these water quality test kits are often utilized: ​
Healthcare facilities to meet CMS-mandated water management plans
Commercial or industrial facilities to meet compliance
Hospitality organizations to test pools/spas and other water features
When continuous or periodic monitoring of water quality parameters is important, it can be impractical and expensive to regularly send samples out for analysis or contract a 3rd party for testing. The more frequently you test your water, the more it makes sense to do it yourself with an on-site test kit. There are many benefits of on-site "DIY" water quality testing
Immediate feedback with real-time results allows faster reaction to problems
Data stays "in-house" reducing concerns over confidentiality and privacy
Allows troubleshooting or retesting of questionable measurements
Lower cost per test allows more data to be gathered when budgets are tight
Staff becomes more knowledgeable about water quality when they do testing
Trusted Water specializes in assembling water quality testing kits using commercially available analyzers and instruments. This allows us to create standard or customized kits designed for specific client applications with the most accurate, easy-to-use, and cost-effective components.
continually evaluate new products, selecting only those that meet our strict criteria for performance, reliability, and cost. Enclosed in a rugged hard-side case, kits contain hand-held and/or portable analyzers with the necessary consumables and reagents included.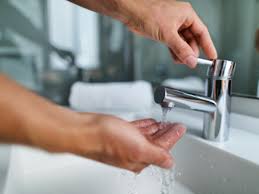 Inspections And Well Water Quality Tests
Septic systems are not exactly an exciting topic, I know. But if you or your buyer is planning on purchasing a home that has a septic system, inspecting that system is a must. And typically, if a home is on a septic system, it is also on a well.
One of the biggest challenges we face as a full-service home inspection company is trying to get septic inspections and well water quality tests done quickly enough to meet the buyers deadline.
Home purchases are up, and so are septic and well water inspection requests. Water quality testing can take time, especially if you are having your water tested for more than just coliform, which is the basic bacteria test.
What does all of this mean for buyers or their agents? It is always a good bet to ask for some extra time when you are purchasing a home where these tests will be required and to schedule your inspection as soon as possible once the agreement of sale is signed. We recommend asking for a 15 day inspection period, instead of the more common 10 days. This way you will be sure to get all of your results in time.
Home Buyer Inspections, Certified Move In Ready (also known as Pre-listing), Commercial Property Inspections, Radon Testing, Termite Inspections, Well Flow Testing, Well Water Sampling, Air Quality Testing/Inspections, Septic Inspections, Intrusive Stucco Testing and 203K Loan Consulting.
Well Water Testing FAQ's
Whether you're washing dishes with it, taking a shower with it, cooking dinner with it, or making coffee with it, we all need clean water for a myriad of daily activities. How can you be sure your source is untainted, especially when your home is serviced by a well, rather than a municipal water supply? Through a simple and inexpensive well water test.
Q: When should I test my well water?
A: We recommend testing your well water when you are purchasing a new home and when you are drilling a new well, at the minimum.
Q: What do I need to test for?
A: Our inspectors recommend that you test for six things— 1) Potability, 2) Lead, 3) Radon, 4) Arsenic, 5) Uranium, and 6) Volatile Organic Compounds (VOC's, however, whether or not you need to test for VOC's depends on where you live.)
Q: What does potability mean?
A: Potability tells you whether or not your water is suitable for drinking. If your home has a well, this is the minimum test you need to perform and provides general information on the overall water quality. The potability test will check for the presence of bacteria, such as E.coli and coliform. The potability test will also determine if common chemicals, such as sodium, iron, chloride, sulfate, manganese, copper, and Nitrate-Nitrogen are present in excessive amounts.
Q: How does lead end up in my water?
A: Lead in water comes from two main sources: pipes or soldering within your home or it can occur naturally from the water source. Many government home loans require you to test for lead if the home was built before 1978.
Q: How dangerous is lead?
A: Elevated levels of lead in water can cause brain, kidney and nervous system damage. Lead toxicity poisoning in infants and young children can impact mental and physical development.
HOME INSPECTION TIPS FOR BUYERS
Today, I will talk about my top 8 home inspection tips for buyers. It's easy to get swept up in the excitement of buying a home. Once you've had an offer accepted on your dream home, you'll probably be anxious to move in. However, before you make a significant financial commitment, it's best to know exactly what you're buying. So let's explore it right now. By the way, watch till the end of the video, as I will provide you my FREE GIFT. My home inspection checklist for buyer pdf is now available for download. And I will give it to you for FREE. Also a disclaimer that I am not a licensed home inspector
This video is for informational and educational purposes only. Make sure to talk to your home inspector if you have any specific questions regarding your property. If you need a referral for home inspectors, comment below and I will share to you my preferred inspectors (take note that I do not receive any referral fees for referring the companies listed). So on to our topic. When you hire a home inspector, you get a professional, in-depth examination of the property's structures and systems. It's a worthwhile investment that can save you money in the long run, either by warning you away from a bad purchase or by providing a list of deficiencies you can use to negotiate with the sellers. The inspector's report will also list minor repairs that, if made, will help to maintain your home over the long term. Additionally, a good inspector can often predict the standard life expectancy of your roof, HVAC, and other big-ticket items so you can start planning for their eventual replacement. However, many buyers make mistakes during the inspection process that cost them time and money and lead to unnecessary stress
Make sure to do your own visual inspection Many buyers rely on their home inspector to point out issues with the property. However, by conducting your own visual assessment before you submit an offer, you can factor expected expenses into the offer price. Or, if you suspect major problems, you may choose to move on to a different property altogether. Examine the walls and ceilings. Are there suspicious cracks, which could point to a foundation issue? Any discoloration? Yellow spots can indicate water damage, while black spots are typically mold. If there's a basement, look for powdery white deposits along the walls and slab, which can result from water seepage
Do NOT Hire the Cheapest Inspector We all love to save money, but not all inspectors are created equal. Before you hire one, do a little research
Attending the Inspection Make every effort to be on-site during the inspection. Buyers who aren't present during their inspection miss out on a great opportunity to gather valuable information about their new home. If you can attend the inspection, don't spend all your time picking out paint colors or chatting with your new neighbors. Instead, use your time there to shadow the inspector. It's the perfect chance to find out where everything is located, ask questions, and see first-hand what repairs and updates may be needed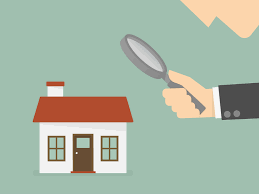 QUICK TIPS TO GROW YOUR HOME INSPECTION BUSINESS
Home inspection marketing is one of the most significant factors in the success of a home inspection business. Unfortunately, it can also be one of the most complicated. Putting effort into marketing will help ensure that your home inspection business grows. It takes effort and knowhow
Marketing: A successful home inspector is a business owner who utilizes proven marketing tools and methods to promote the services they offer to potential clients and referral sources
Roadmap: Few people get to their desired destination without a plan. Make a business/home inspection marketing plan and stick to it! A good marketing plan is a document that brings together your market research. This helps you figure out exactly where your business needs to go and how it is going to get there.
Face-to-Face Marketing: Research shows that face to face marketing is one of the cheapest and most efficient ways to get your name out in the market. Face to face marketing is cost-effective for reaching large numbers of people in a short time. Any activity must grab the prospective client's attention quickly, as the window for interaction is short. Grab their attention and try to maintain it long enough for them to engage in the message you are delivering. Continue getting out in front of people when money gets tight, as this is a low cost and effective way to market yourself. Opportunities are out there, you just need to find them.
Website Presence: A website is an essential and cost-effective way for potential clients to learn more about you and your company 24/7
Tips to survive after a home inspection
Helpful tips to survive after a home inspection, it's what home inspectors do and don't want you to know. A home inspection and helpful tips to help you survive after your home has been poked at from top to bottom. It's the things you don't see that may be destroying your home. There are a lot of home inspectors out there poking around homes to find potential damage issues around the exterior of a home. Did you know that the sharp metal objects that most home inspectors use such as an awl can cause damage below the surface of a quality exterior paint job? This pricking around the home and poking to locate areas of concern of your homes inspection may cause future damage to your homes exterior by causing a break in the protective paint barrier. Since water intrusion can absorb under the paint layer and cause future damage such as paint peeling, blistering, future wood rot, it can attract unwanted wood boring insects, not to mention those unsightly ants that love to colonize in moist places, and future decay of structural wood.
Home Inspection Tips for Sellers
Generally, the path leading up to the home inspection is longer for the seller than for a buyer! The seller prepares for the sale by decluttering, cleaning, maintaining, repairing, and staging their home. Anxiety for the seller typically grows during inspection day and when the inspection report arrives. Sellers ask themselves: "What might the inspector find? What did we overlook?" And sometimes it can even feel as though someone is intruding in their space, and judging everything about their house.
Recently, veteran real estate agents with 30+ years in the industry told me that home inspections used to simply involve a professional looking at the major appliances and systems like the furnace, HVAC and water heater.
There are many reasons that buyers invest in an inspection:
To ensure they are not buying a lemon.
To be informed about any potential additional costs they could incur after closing.
To find any issues that could potentially be a deal breaker if they are not addressed by the seller.
As soon as closing documents are signed, all of the home's issues will the responsibility of the new owner. The contract clearly states that the home is being purchased "As is" and "With all faults."
A buyer will have a certain amount of time that allows them to conduct pretty much any inspection they desire. A buyer will choose which inspections they deem necessary. The charges are also the buyer's responsibility. As a matter of fact, home buyers can inspect anything they like unless it damages the home (in that case, permission has to be retrieved first).
tips for navigating the home inspection process
Selling a home can be a stressful experience for most homeowners. Keep Calm and focused on the big picture. When it comes to home inspections, most homeowners aren't used to having a stranger peer into their attic, open every cupboard and closet or test every appliance. For some, this stress can turn into a major nightmare.
Prepare for the inevitable.
When the home inspector comes through and begins pointing out flaws, many homeowners take the comments personally. This is why it's important to make sure that not only is your house is ready for inspection, but that you are, too.
Be proactive
Before the inspector arrives, talk with your agent about whether they plan to be in the house during the inspection. If the buyers will also be attending the inspection, the best thing for both parties is to keep the sellers away and occupied for the duration. Concerned that you won't be able to answer questions or explain an issue with the home? Leave contact information at the house and have the buyers or inspector call with any pressing questions.
Keep Sane
When the time comes for the actual inspection process, take a minute to remind yourself that the home inspector is simply doing his or her job. Emphasizing this fact can help keep sellers grounded, even when the inspector comments on the improper installation of their favorite fixture. If you do start to get worked up about the inspection or a comment made by a potential buyer, try to redirect attention and remind them about why they're selling their home in the first place. As much as possible, focus attention on the bigger picture and the end goal: getting the best return on their investment and finding a new home.
Why Is It Important to Call for Mold Inspection Services?
A Look at the Benefits of Scheduling a Mold Inspection
If you suspect that you have mold in your house i , it's important to hire an expert in mold remediation to perform a professional mold inspection. Symptoms of mold exposure can be incredibly serious, particularly exposure to toxic black mold. Here is a look at the key benefits of hiring a mold remediation expert to perform a mold inspection and black mold testing in your home.
Prevent Serious Symptoms of Mold Exposure
Mold symptoms, particularly black mold symptoms, are dangerous, and can even be life threatening. If you or anyone in your household is already ill or suffers from an autoimmune disease, you're at a higher risk of dangerous symptoms of mold exposure. Symptoms of mold exposure can be as mild as allergies, skin rashes, and common cold symptoms. Black mold symptoms can include serious respiratory problems and infections, asthma complications, chronic headaches and fatigue, dangerous neurological problems, and toxic mold syndrome.
Improve Indoor Air Quality
When the mold in your house becomes airborne, your indoor air quality significantly declines. Mold exposure and mold symptoms occur when mold spores are inhaled from the air and settle in the lungs or nasal passages. A mold remediation expert can test your indoor air quality for signs of mold spores. He can also perform an extensive mold inspection to look for signs of mold growth throughout your home. If he finds mold in your house, he will perform professional mold testing, including black mold testing, to see if you are at risk for toxic mold exposure.
Reduce Your Risk of Structural Damage to Your Home
Mold growth occurs in areas that are damp and warm. This means that mold might grow in areas of your home that aren't immediately visible, such as behind walls or wallpaper, behind or underneath plumbing fixtures, in flooring or ceiling tiles, and behind or underneath appliances. Water damage and mold growth can cause problems with wooden structures, insulation, and electrical wiring in your home. A mold inspection and mold remediation will reduce or prevent serious structural damage.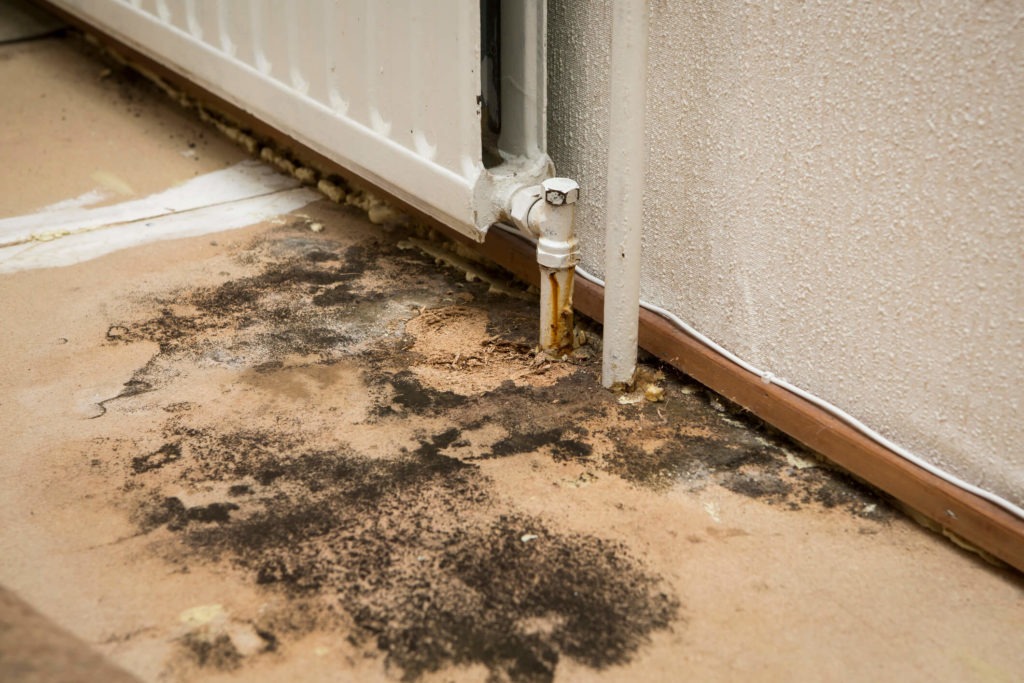 Signs You May Need Mold Remediation
So, how do you know if your home contains harmful levels of mold? When you see black spots appearing on walls, ceilings or other areas of your home, it is a clear sign that there is an overgrowth of mold. However, mold could be growing inside the walls invisible to the naked eye. Mold build-up in air conditioning ducts also often goes unseen. As the AC unit blows, it contaminates your air with tiny mold spores circulating throughout your home day and night.
Water Intrusion Events
Moisture creates a perfect breeding ground for mold spores. A water intrusion event is a common cause of mold overgrowth. Overt flooding from an outdoor or indoor source will often bring on a mold problem within 72 hours of the water intrusion. When drywall, carpeting, upholstered furniture, and other porous materials become saturated with water, it takes a long time to dry out thoroughly. Mold likes to grow in damp, dark areas. That's why basements and attics are particularly vulnerable to mold problems.
Some water intrusion problems are not as easy to detect. Leaking pipes inside the walls may go unnoticed for a long time. If the water collects behind tiled walls, for instance, you may never see the damage.
Odd Odors from an Unknown Source
If you get a whiff of something musty in the air inside your home, it is a good sign that there is a mold source nearby and you may need mold remediation. Again, air conditioning ducts could be the source. Also, check for water that has pooled around an AC unit, water heater, or under a sink. These are all places that small leaks may occur and go unnoticed. Some species of mold do not give off odors, so mold could be present even if you do not smell anything unusual.
Stains and Discoloration of Walls and Ceiling Tiles
Even if you don't see the tell-tale black spots of mold growth, more subtle hints may be popping up around your home. Yellow, brown or orange discoloration of ceiling tiles, walls, or in showers or bathtubs could be an indication that there is mold growth occurring. Not all mold species appear black. Just like you may have noticed on different types of food, some molds are white, gray, green, red, or brown. Depending on the organic substance that the mold has settled into, colors may vary.
Health Symptoms that May Indicate Mold Problems
One of the most critical yet unrecognized signs that you need mold remediation is the adverse effect that mold has on human health. Breathing mold spores can cause a variety of symptoms, including:
Coughing
Wheezing
A sore throat
Nasal & sinus congestion
Sneezing
Nosebleeds
Watery eyes
Chest tightness
Difficulty breathing
Because these symptoms resemble the common cold, a mold problem may not be considered as the source. If you or your family members seem to catch colds often, a mold issue could be the real culprit. Inhalation of mold can even bring on asthma attacks for those who suffer from the condition.
Long-term mold exposure to toxic molds may cause including cancer, pneumonitis, neurotoxicity, and other serious illnesses.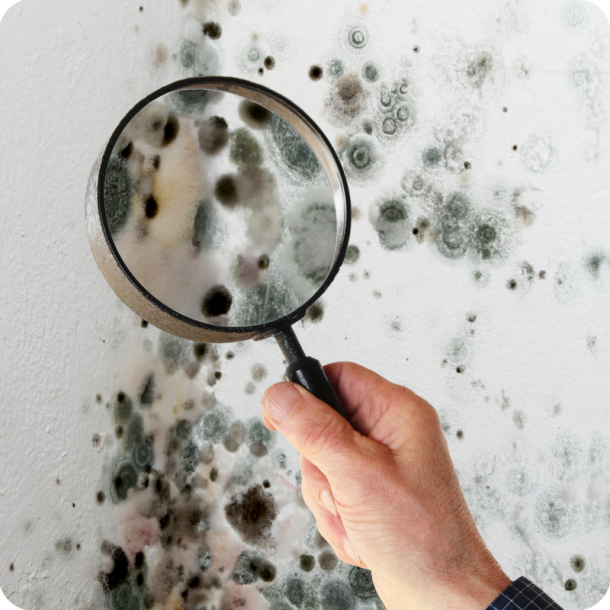 Here are the ways you can prevent the spread of mold, and what you can do to get rid of it.
Keep an eye out for hidden leaks: Wet spots on your ceiling, at baseboards or on the floor are a telltale sign of a leaky pipe or roof. Your home's pipes are behind drywall, which can leave a small leak unnoticed for a long time.

Mold can grow behind those walls and filter into the air through ducts or pipes. A plumber or contractor can help identify weak spots or possible leaks and prevent mold growth.
Keep your air conditioner clean: Many air conditioners, especially window units, are susceptible to mold growth. They often trap moisture, creating a breeding ground for the spores. Choosing a unit with humidity control can prevent moisture build-up. Leaving the device running at a low or "automatic" level during the day will keep air circulating and prevent a serious rise in humidity. You should also replace filters every three months, or as recommended.

"Your home should always maintain less than 60 percent humidity in order to stop mold production," said Dr. Spahr. Finally, keeping ducts free of dirt and dust also eliminates the organic matter on which mold can feed.
Ventilate heat-prone rooms: Bathrooms, kitchens and laundry rooms create a lot of excess heat and humidity, whether it be from the shower, stove or dryer. All three of these rooms should be well ventilated to prevent the lingering moisture that attracts mold.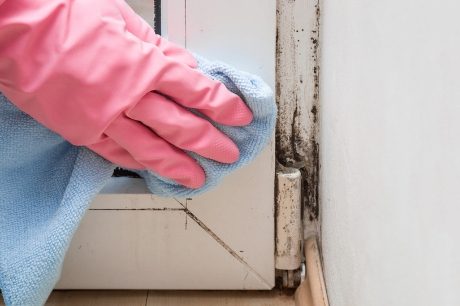 How Black Mold Affects The Brain
When mold enters your body through the air or skin, it can cause disturbances in many body organs including the brain. Often confused as just allergies, mold infection can greatly affect the cognitive function of the brain. When this happens, many dysfunctions occur leading to psychological distress and even feelings of craziness. Toxic mold can kill the neurons of the brain and affect a person's mental ability. They also cause nervous disorders like tremors and personality changes such as irritability and mood swings.
Treating Mold Infection
If you've experienced black mold infection symptoms, the first step is to have the mold completely removed or remove yourself from the contaminated environment. However, in serious incidences, you need to take the necessary steps to treat it. Because of its long-term effects, it can easily be misdiagnosed and mistreated thereby leaving you more frustrated. If you think that you have mold symptoms, then you need to get a proper evaluation. To test for mold allergies and symptoms, your doctor may perform a blood test and skin prick test. These tests can help diagnose both severe mold poisoning and mold allergies. Treatment for black mold exposure and allergies may include:
Nasal sprays: You can use over the counter nasal sprays to reduce any inflammation caused by black mold allergies or a solution of warm distilled water to clean your nasal passages and remove congestion.
Over the counter medications: Over the counter drugs such as antihistamines can also help reduce your immune system and the swelling that occurs due to allergic reactions.
Allergy shots: Your doctor may also recommend getting regular allergy shots to boost your body's immune system over time.
The Mold Inspection Procedure
When your professional mold inspector arrives at your property, in order to begin the inspection, he will use an assortment of methods, including: visual inspection, surface sampling, and air sampling in order to determine the source and the type of mold that is present in the building.
Each time a mold inspector visits a property they will begin the process with a visual inspection. They will check the property and look for any signs of water damage, water intrusion, possible faucet or pipe leaks, and any other signs of moisture. They will also test the temperature and the humidity on the property, and add these calculations to a wide variety of data that they will be obtaining about your home or property.
When a professional mold inspector begins the surface sampling process, they are actually attempting to determine what kind of mold exists at a particular location within the property. The inspector may use a swab or a piece of tape to obtain the sample. As soon as the sample is properly packaged to avoid contamination, it is sent to a reliable laboratory where it can be analyzed.
The air sampling procedure is perhaps the best process of determining whether or not airborne mold spores exist within your premises. There are a variety of types of equipment that may be used for this type of sampling, but generally air will be drawn and then impacted over a glass substrate in order to create the sample.