Must-Know Outdoor Lighting Tips
With summer in full swing, you're probably spending most of your time enjoying the great outdoors—and that likely includes relaxing in your backyard, or hosting friends for a dinner alfresco. Don't let the fun stop once the sun goes down just because your outdoor lighting is nonexistent or inefficient. Not all outdoor lighting is created the same, and it requires more than just putting up a wall light or some string lights and calling it a day. To create ambience, it's all about choosing the right type of lighting fixture for your backyard. Luckily, Michael Murphy, Interior Design and Trends Producer for Lamps Plus, is here to help. Here, Murphy breaks down the different types of outdoor lighting, where to place fixtures, how to calculate how much lighting you need, and much more. Use his tips and you'll be able to enjoy those fun summer nights even more.
Include These Three Types.
Make sure to incorporate the three basic types of lighting: ambient, task, and accent. Ambient lighting can be achieved through hanging lights, post lights, and wall lights. Task lighting includes pathway lights, plus deck and security lights. And you can get accent outdoor lighting with landscape kits and spotlights. "For a small patio and a modest budget, consider string lights, solar spotlights, or LED candles," Murphy says.
Calculate.
Before you start shopping, you'll need to figure out exactly how much lighting you need. "To determine how much light a space requires, try this quick calculation: multiply the square footage of the area you want to light by 1.5 to get a rough estimate of the total wattage required," he says. "For example, 100 square feet of space would require 150 watts."
Plan Ahead When Choosing Fixtures.
Observe your space and take measurements so you don't choose fixtures that are too large-scale. "Check the size and position of a fixture before you buy using a simple piece of paper," Murphy says. "Use a paper template to determine exact placement to review the size before buying. For either the front porch or the back patio, the size of an outdoor wall light should be approximately one-third the height of the door." You'll also want to make sure you're choosing sturdy lighting, one that's made of high-quality and weather-resistant materials.
Use LEDs.
"They use far less energy than halogen or incandescent bulbs," he says. "Plus, they are almost maintenance-free, so you won't have to change bulbs."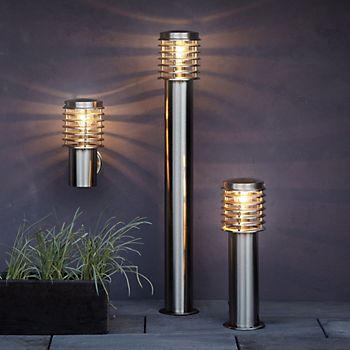 Outdoor Lighting Buying Guide
Add beauty and security with outdoor lighting. Our guide helps you understand outdoor lighting fixture types and functions so you can choose the best and safest accent lighting, post lighting and deck lighting for your home.
What Is Outdoor Lighting?
Outdoor lighting includes a variety of light fixtures that address and improve exterior home security and safety. Additionally, these outdoor lighting fixtures highlight landscaping and architecture at night and come in a variety of styles and finishes.
Power and Performance
With options ranging from hardwire flood lights to plug-in dusk-to-dawn lights to even solar motion lights, you can find the perfect outdoor flood lights for your landscape and the exterior of your home.
Solar-powered outdoor lighting draws the energy it needs to make the lights operate from sunlight. Though this option can cost more for the initial purchase and setup, you can ultimately save on your energy bill. Be sure to install the solar panels in areas that receive sufficient sunlight, and avoid dark and shadowy areas of your home.
Security and Flood Lights
Security and flood lights are broad-beamed, high-intensity lights designed to flood large areas with light. As a result, these fixtures are often used as a preventive measure to reduce criminal activity and increase feelings of safety, especially when equipped with a motion sensor that causes the light to illuminate when movement is perceived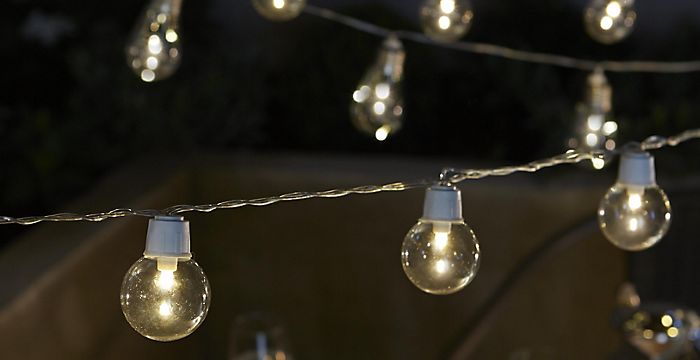 Outdoor lighting buying guide
Stay safe and have fun with our garden lighting options
Enjoy your garden after dark by introducing some outdoor lighting. It not only helps you move around your space safely, illuminating paths and changes in level, it can also help create an atmosphere for socialising or dining. Be it for fun family parties; romantic, intimate dinners or quiet, relaxing time alone. And with such a range of designs on offer, garden lighting can become an attractive feature to complement contemporary or more classic garden styles
So whether you're looking for a permanent solution, or ones that can be put up and taken down as and when you need them, we have lighting options to help you make the most of your outdoors space.
What area do you want to light?
The area in need of lighting often determines what lighting type would work best in this space. So, if you're looking to light up a path for example, this would require navigational lighting that helps people stay safe and easily follow the route, rather than a decorative alternative that might only illuminate a portion of the path. So, have a think about your space and how you use it to shape your lighting design.
Do you want your lights to be portable?
When it comes to whether or not you can move your outdoor lighting around, power source plays a large part. Fixed, electrical lights need to be connected to the mains making them the ideal choice if you want lighting close to the house. Whereas candles, battery or solar-powered lighting have no restrictions and can be moved around as, and when, you like. So, if the area you want to light is a distance from your home, or you want to be able to adjust your lighting based on what you're doing, choose one of these options.
Electrical lighting
Mains power provides consistent and uninterrupted lighting which will burn brightly and for us long as you want it to. Being a permanent fixture, it has to be fixed into place and be properly fitted.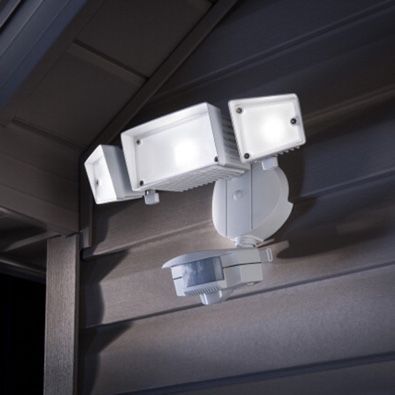 DIY Outdoor Lighting Tips for Beginners
No Electrical Experience Necessary
Since most outdoor lighting is low voltage, it's safe and easy enough for any DIYer to install. In fact, the only special tool you'll need is a wire stripper. Find out what's trending in outdoor lighting before embarking on your project.
Install Underground Wiring After Planting
To prevent accidental cutting of wiring for ground-level fixtures, install wiring after your landscape has been planted. That way you won't accidentally chop through it with a shovel. Also, don't install wiring in digging areas like garden beds, and be sure to bury low-voltage wire at least 6 in. below the surface
How It All Fits Together
A low-voltage system has three parts:
The transformer plugs into a nearby GFCI-protected outlet and reduces 120-volt current to 12 volts.
The low-voltage cable carries current between the transformer and the light fixtures.
The light fixtures get connected to the cable with wire connectors made specifically for outdoor use.
Keep Your Fixtures; Upgrade Your Bulbs
For decades, halogen lights reigned supreme in low-voltage outdoor lighting systems, but LEDs have all but replaced them because they cost less to operate and last much longer. But you don't have to tear out all your old halogen fixtures to enjoy the benefits of LEDs—retrofit bulbs are available. Just be sure to replace each halogen bulb with equivalent wattage and the same base type. Expect to pay about four times more for an LED bulb, but they use less energy and you'll get up to 20 years of life from one compared with only two or three years from a halogen
Don't Overlap Pools of Light
The purpose of most deck lighting is ambience, and professional outdoor lighting designers say it's best not to create overlapping 'pools' of light on decks and patios. So avoid mounting fixtures too close together. For decks, choose fixtures that cast a 4- to 5-ft. pool of light. Keep them 30 in. up off the deck's floor and space them up to 10 ft. apart. Overlapping lights on deck stairs and walkways can be a good thing, however, by providing enough light to help people avoid tripping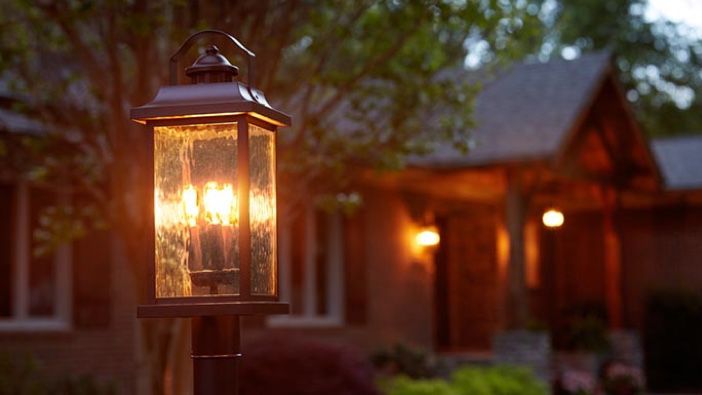 The Best Ways to Light the Backyard
Assessing Your Yard's Needs
Darkness needn't put a damper on backyard activities like swimming and barbecuing. By installing backyard lighting, you can keep the party going long after dusk, boost outdoor ambiance, and protect your property from unseen threats.
The three main types of backyard illumination are safety lighting to deter prowlers and improve navigation, landscape lighting to accentuate garden features, and accent lighting to put the focus on the hardscape. Ultimately, you'd want all three types in your backyard to achieve different lighting levels for different needs—and within each of these categories, there's a variety of lighting choices. So let us shine a light on the best backyard illumination options, so you'll know what to put in your outdoor space
Security Lighting
Security lighting, generally the brightest backyard lighting, is safety lighting to illuminate large areas and scare off would-be burglars or destructive animals. Powered by standard, 120-Volt current, this lighting is installed high spots such as the eaves or above a garage to cast wide beams of light down onto main walkways or the backyard fence entrance.
Our Pick for Security Lights
Available in bronze or white, the Revolve 270° Triple Head (available at amazon.com; $69) blends in with your home's trim when positioned on the eaves or the underside of a covered patio. But you'll know that this wired light is there when you approach: Its three optical LED lights produce a powerful 2400 lumens to light up your landscape as bright as day for up to 100 feet for as long as you choose. And, when placed at the corner of the eaves, the rotating optics on the Revolve can be adjusted to light up two sides of the house.
Path Lighting
Path lighting is soft to moderately bright safety and landscape lighting designed to help you navigate walkways while attractively highlighting them. Install it on the ground along both sides of main walkways from the back door to your fence door, along stepping stones from the main walkway to a backyard feature like a fountain, and/or around flower beds to emphasize their contours.