"Rebuilt" is a relative term when it comes to engines
Buying a classic car can be an uncertain proposition, especially when it comes to words like "restored" or "rebuilt." "Restored" can refer to any number of finish levels, with terms like "body-off," "concours" or "rotisserie" tossed around with abandon. The same sort of ambiguity applies to the term "rebuilt," particularly when it comes to an engine, and it can mean anything from a newspaper-masked rattle-can paint job to a completely remanufactured long block engine assembly.
The difference between rebuilt and remanufactured — if sellers are using them correctly — is that rebuilt implies some engine components and parts were replaced as needed, while remanufactured means that the engine was completely torn down, cleaned, inspected and machined back to original or better tolerances than when it left the factory. The terms "balanced" and "blueprinted" are often associated with this type of work. Rebuilt engines run in scope from the aforementioned rattle-can job to complete remanufacture. It's in your best interest to determine exactly what's been done, and by whom, to an engine in any car you're looking at. Following are a few varying degrees of "rebuilt."
TOP-END REBUILD
As the cylinder head or heads comprise the top end of an engine, this remove, rebuild and replace procedure is known as a top-end rebuild. An overheated engine can blow the head gaskets. Clouds of white coolant or blue oil smoke might mean it's time for a top-end rebuild or valve job. The sort of heat that breaches head gaskets usually warps cylinder heads in the process. Replacing the head gasket after an overheat involves removing the cylinder head and either sending it out for machine work and a valve job or swapping it as a core for a remanufactured head. A fresh cylinder head can breathe new life into an engine.
RE-RING AND BEARING
If the engine is out of the bay for something like a top-end rebuild, a re-ring can be considered depending on the condition of the engine, bearings and clearances — and if the deck on the block is true. Pulling the crankshaft and pistons for a good look at the connecting rod and main bearings is another way to gauge engine condition. A fresh set of piston rings and/or bearings in an otherwise untouched engine is known as a re-ring, which is not so much an engine rebuild as a refresh to restore proper compression and should be considered as a temporary lease on engine life.
SHORT BLOCK
If the cylinder walls are scored, the crankshaft and bearings are shot, pistons holed or the deck is warped, then it's time to send the rotating assembly and block out to your favorite machine shop. The block is decked, bored and honed for new pistons. The connecting rods are resized with new rod bolts installed. Camshafts are reground or replaced. The crankshaft is either polished or cut and then polished. Timing chains or belts are renewed. The finished rotating assembly minus the cylinder head (or heads) is known as a short block. A short block can mean sending the original to the machine shop or exchanging your rebuildable core for a like remanufactured short block.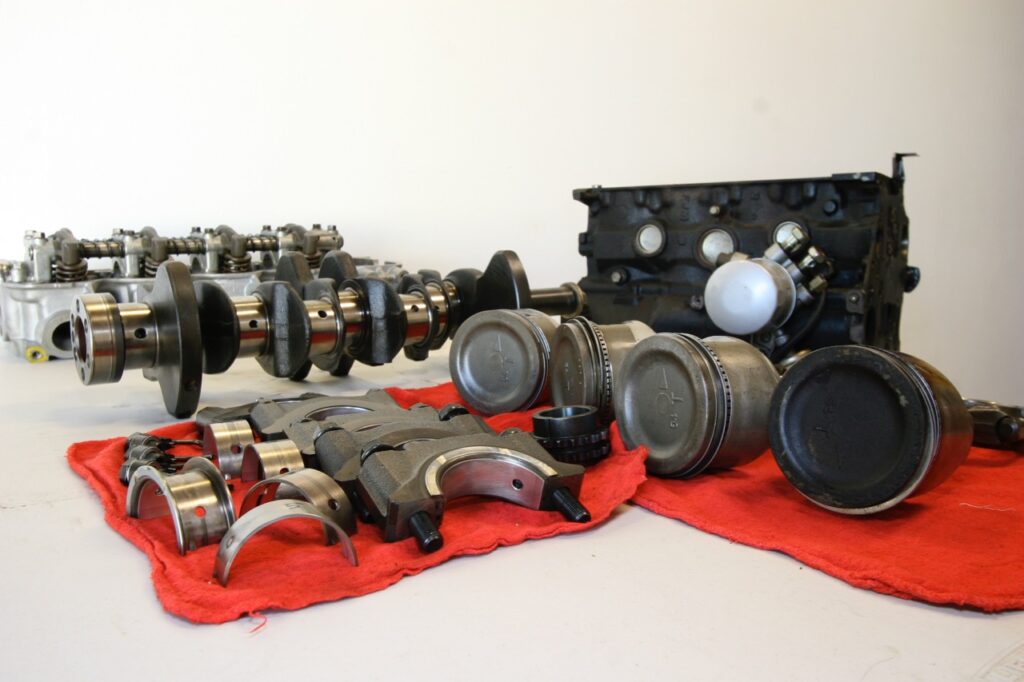 Buying a replacement car engine – what do you need to know?
Engines are the heart of any vehicle. If you've got an engine problem, you've got a car problem. Despite their importance, though, engines can be purchased second-hand like almost any car parts. However, there are many things you'll need to consider when purchasing a replacement second-hand engine for your vehicle.
Which type of engine do you need to get?
Understandably, car engines aren't completely interchangeable. This doesn't mean that there isn't some crossover: two slightly different models released by the same company within a five-year period might well be able to use the same engine.
Long or short block?
One of the main considerations is whether or not the engine is a long or short block. These two variations can actually be found on what is otherwise the same engine, so it's an important point.
The difference between the two is on which engine components are included:
A long block engine includes the full works when it comes to parts: cylinder heads, camshafts, valves, valve springs and an intact head gasket. As such, long block engines can normally be installed quickly and easily, and will make a suitable replacement for any engine that's been written off.
A short block engine, on the other hand, is designed for cases where the full engine doesn't need replacing; just parts of it. A short block engine is usually much cheaper as a result.
A note on replacing parts: it's worth checking (and double-checking) to ensure that it's not a single part of the engine causing the problems. The following individual bits are all capable of causing wear and tear:
Engine valves. These work together, one responsible for taking in the air and fuel mixture and the other responsible for expelling exhaust.
Piston. This is a piece of cylindrical metal that moves upwards and downwards within the cylinder.
Piston rings. These seal off the area between the cylinder's inner edge and the outer edge of the piston and prevent the leakage of fuel and air into the sump during the compression and combustion phases.
Connecting rod. This allows the crankshaft to be connected to the piston; both ends may rotate to allow for full movement of both pistons.
Crankshaft. Changes upward and downward strokes of pistons into a circular pattern, allowing the pistons to perform their function.
Oil sump. Otherwise known as the oil pan, this surrounds the crankshaft.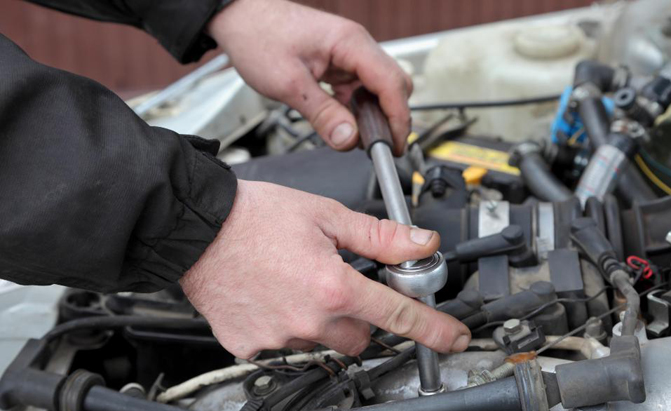 Should I Buy A Car With A Rebuilt Engine?
An engine can wear to the point of being unable to perform adequately. At that stage, it must be taken apart and then put back together with new parts to replace the worn components. Tell tale signs of an engine that needs to be rebuilt include high oil consumption and white smoke coming from the tail pipe.
Rebuilding an engine is a detailed process that includes the cleaning and assessment of the short block, replacement of the piston rings, bearings or other components in addition to reconditioning of the cylinders in order to make sure the engine is in top shape. This can sometimes be a sign that the engine has experienced some wear and tear, though
Where was it rebuilt?
Our expert for this article, Troy Snyder, is the chief operating officer of NADA Guides, a publication that follows the transaction prices of used cars. The folks at NADA Guides offer great insight into the value of used cars. "A rebuilt engine can be as good as the OEM one," Snyder said. "Sometimes a rebuilt engine can maintain the original engine warranty."
If you're looking at a car with a rebuilt engine, he said that you should look at where the service was performed. "Certain organizations (like a dealership) are trusted to handle such a job," she said. "If you go down to your regular mechanics shop there's more risk involved."
Even so, Snyder said vehicles with rebuilt engines aren't necessarily something you should avoid. "I wouldn't put a rebuilt engine in the same realm as a salvage title," he said. A salvage title could have many underlying problems like flood damage or a serious accident history, while a car with a rebuilt engine has just one concern: the motor.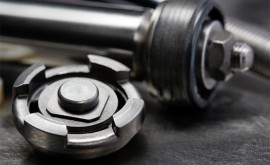 Engine Rebuild and Replacement Services
Affordable Engine Rebuild Service Near You
There is a good chance that an engine rebuild could save you a whole ton of cash, depending on the root of the problem and the parts required to fix it. As one of the few shops in partnership with NAPA, you can take comfort in the knowledge that we use only the finest auto parts and have the skill required to integrate them seamlessly into your engine.
At times, an engine rebuild can save you anywhere from 20 to 50 percent of the cost of replacing the engine completely. Depending on the parts needed and the number of man-hours required doing the job. Often, repairing the engine will also give you a good opportunity to replace a few parts that would have otherwise been neglected. Let us take care of your car's needs. You may also find there are a few upgrades you would like to make while we have our heads under the hood.
In some cases, simply replacing the engine may be a better option than an engine rebuild. It will add valuable years to the life of your engine and turn a once problematic and fickle vehicle into the working and reliable car you require as a driver. Replacing the engine also removes the quick and potentially annoying addition of miscellaneous parts such as hoses, belts, filters, and coolant. Rest assured, our number one priority is providing you with the best option for returning your vehicle back to you in a stable working condition.
Reliable Engine Services You Can Trust
The vast majority of engine rebuilds could have been avoided with proper diagnostics from a qualified and honest mechanic. We are ready to be realistic and forthcoming with, what we know, is one of your most important investments. An accurate diagnosis of the root issue is extremely important in saving you money, both in parts and the cost of labor. Unlike other mechanics, we are dedicated to the idea that healthy engines make for happy people. Fixing the problem correctly the first time gives you, our customers, a reason to come back.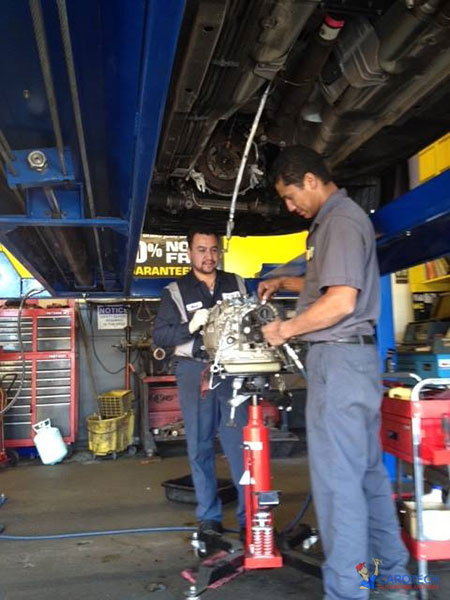 Choosing the Right Machine Shop for your Engine
Every month, we receive emails from enthusiasts asking what steps should be taken to begin building his/her engine
Build it right the first time.
So what do you look for in a good machine shop? We'll try to shed a little light on the matter, so that next time you are hunting for the right place you know you're in good hands.
Foremost, the first and most important thing you want to address is knowing how you plan to drive your vehicle (time attack, drag, autocross) before you start your project. All too often, we hear about customers wanting a stout, reliable street motor who suddenly change their mind in the middle of a machine job and request that their setup spins to 8,000 rpm with the addition of a big turbo or nitrous, all while on a budget.
Machine Shop
Is the shop clean or messy? Most machine shops are typically cluttered, but on the flip side, a shop that is messy will typically reflect the machinist's work. A shop that is clean will have machinery that is clean. Simply stated, clean tools do their jobs better.
Types of Machinery/Tools
The defining characteristic of most shops is the type of machines they operate. Is the equipment new, top of the line, and well maintained? Many customers prefer old-school machinists using old-school machines, but take into consideration that as a piece of equipment gets older its ability to hold narrow tolerances slips, particularly if it has not been regularly maintained and periodically calibrated. CNC machines are regularly calibrated or replaced due to wear and tear issues every 10 years to keep up with newer, more improved technology.